ClinCare Exchange
Providing secure and compliant file sharing solutions.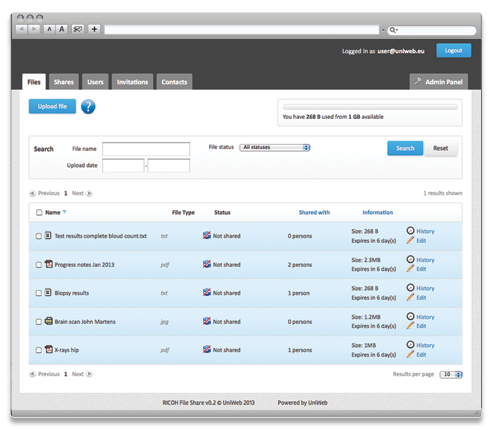 ClinCare Exchange is a file exchange tool developed with a focus on security and compliance.
The tool facilitates the exchange of confidential clinical data while being compliant with medical and pharmaceutical industry data sharing standards.
The tool provides the user with business and performance advantages including the ability to track who is downloading the file and send large files. It can be used as a standalone application and custom policies can be enforced on a per customer basis.
ClinCare Exchange feature advantages:
Simplicity
Transfer files from anywhere via Web
Send files without IT assistance
Larger files sent faster
Security
Secure file management
Assured privacy with end-to-end encryption.
Access control — central management of user functions
Hosted on a dedicated server managed by UniWeb
Compliance
Medical and pharmaceutical industry compliance
Archive utility
Audit trail — reports on all file exchange activity
Less IT involvement
Reduces size of your mailbox
Overcomes attachment size limits
Unlimited file storage capacity